Cleaning Color Sealing Grout
COLOR SEALING GROUT SERVICES -PROTECT AND REVITALIZE YOUR GROUT
At Carolina Tile, Grout, and Tub Restoration in Greensboro, North Carolina, we specialize in restoring your tile and grout to like-new conditions. Professional grout cleaning and color sealing go hand in hand in helping to give you the results that exceed your expectations. We are a locally owned and operated Greensboro, NC business that specializes in helping you get your tiled surfaces to look amazing with professional grout care.
Our professional color sealing grout services are designed to revitalize your grout. You do not have to live with the color of your grout, we can change it for you. Color sealing grout is about the aesthetics that you will enjoy while also making your home a more sanitary place to live.
If you are fed up with how your tiled surfaces look because of dirty, stained grout, or you simply no longer like the color of your existing grout, we have the solution for you. Professional grout cleaning services complemented by our color sealing grout services will change how you feel about your tiled surfaces.
WHAT IS COLOR SEALING GROUT?
We use high-quality color sealers after our professional grout cleaning to help protect your floors and other tiled surfaces moving forward. When you have color sealing grout services from Carolina Tile, Grout and Tub Restoration, Inc. in Greensboro NC, not only will your tiled surfaces look amazing but they will be protected from dirt, grime, food, and beverage spills, and resist mold and mildew growth.
Our process leaves your grout uniform in color, looking like new, smelling great, and helps to keep your space free of future stains, harmful bacteria, mold, and mildew.
A SIMPLE PROCESS WITH AMAZING RESULTS
We deliver professional services that Triad homeowners can depend on. We are committed to delivering 100% satisfaction. Our goal is not to meet your expectations but to exceed them. Our entire team is dedicated to making your experience with Carolina Tile, Grout, and Tub Restoration, Inc. a positive one.
We will come to your property and discuss your color options. You can choose from a wide range of colors that will complement your home style and decor. On the day of your scheduled services we will:
Clean your surface thoroughly using our grout cleaning process to remove any debris, built-up grime and stains. The surface is then allowed to dry completely in preparation for the color seal.

We apply the grout color sealant and allow it to penetrate the grout.

We remove any excess color sealer and let the surface dry.

We clean the surface thoroughly to remove any residue left behind.
The color seal dries to a hard protective layer fast and is ready to provide years of durable protection.  We never cut corners when it comes to high-quality products and services. We ensure the project is completed to perfection.
NC's Best Grout, Tile & Bathtub Services
Before you have your tile, grout or tub replaced, let Carolina Tile, Grout & Tub Restoration, Inc. show you what options are available to you.
THE AESTHETICS OF COLOR SEALING GROUT
One of the clear benefits of taking advantage of our color sealing grout services is to improve the appearance of your tiled surfaces. Grout plays a big role in how your tiled floors, tile tub surrounds, and tile backsplashes look.
Color sealing the grout can change the color of your grout to the color of your choice. It can give your grout a uniform look, and really make your tiled surfaces stand out. The ability to change the color of your grout means that you can change your grout to match your new color scheme, instead of replacing the whole floor. It can be a huge cost savings if you want a new look without having to change the whole floor to get it.
Discolored grout can make your tiles look old and worn out. There is not a scrub brush in the world that can return grout to a like-new condition once it has become discolored. As grout ages, it can remain intact but rarely keeps its original color. Color sealing grout can fix that. Often sections of grout have to be replaced, but the difference between the old grout and the new grout is always obvious. With color sealing, all the grout, regardless of its history, has one uniform look.
How many weekends do you have to dedicate to cleaning? When you choose to have your grout professionally color sealed we cannot promise you won't have to spend time cleaning the rest of the house, but we can guarantee that keeping your grout clean will be a lot easier.
The professional grout color sealing process actually helps to repel dirt. It keeps the grout from staining from food and beverage spills. It also keeps dirt and debris from building up on the grout. You get a great looking surface that you do not have to use a lot of elbow grease to keep clean.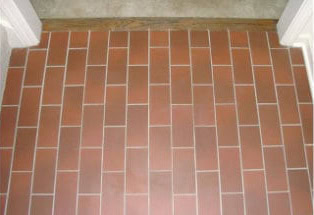 THIS IS NOT A DO IT YOURSELF JOB
Over the counter tile and grout cleaning solutions may get the topical dirt off but it is simply not powerful enough to get to the root of the problem. Our professional grout cleaning services combined with our grout color sealing services are an easy solution for renewing how your tiled surfaces look. There are plenty of things you can do around that house as a DIY project, this is not one of them.
Making sure the color sealing product is spread evenly and applied properly takes experience. It can be a very difficult project to navigate on your own. At Carolina Tile, Grout, and Tub Restoration, Inc. in Greensboro, NC, we offer expert services that are reasonably priced to help you to fall back in love with all your tiled surfaces.
We're proud to be Greensboro, North Carolina's grout experts. Contact us today to learn more about the process and how it can help to restore, renew, and improve your tiled surfaces.